Regular price
$3,850.00 USD
Regular price
Sale price
$3,850.00 USD
Unit price
per
Sale
Sold out
A Bit About The Piece:
Solid, heavy gold men's fire agate ring with electric fire pattern.
Details, details...
The Stone: Fire Agate
stone measurements: 13.81mm x 8.46mm x 6.01mm
origin: Northern Mexico
freeform barrel shape cabochon cut

predominant color flashes of green and blue with red undertones and purple overtones
The Setting: Cast Flush Set Custom Solitaire Euro Shank Ring
14kt yellow gold, solid
North-South stone orientation
approximate default size: 10.50
ring width (top): 15.58mm
ring width (bottom of shank): 6.25mm
weight: 23.81 grams
Made in USA
Share
View full details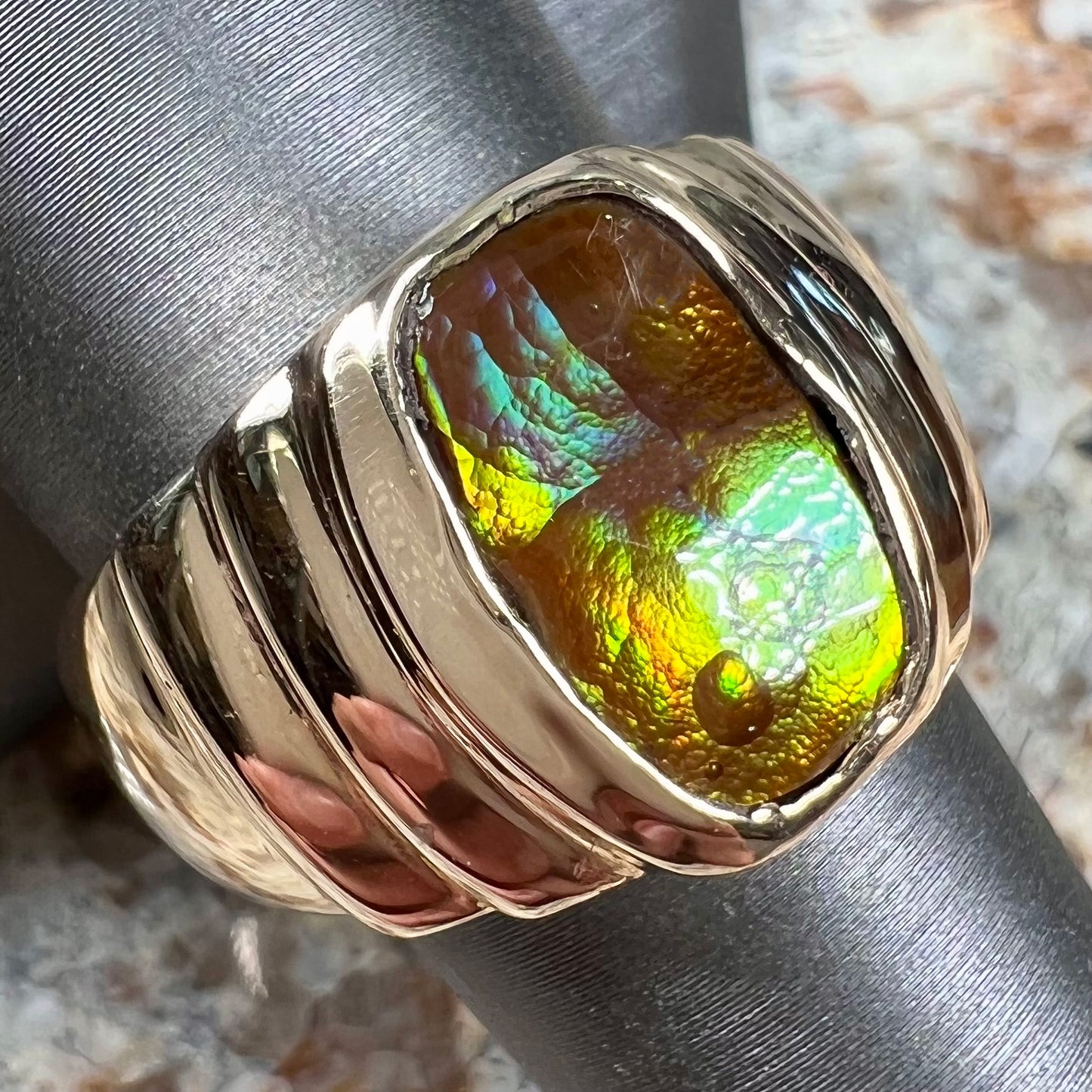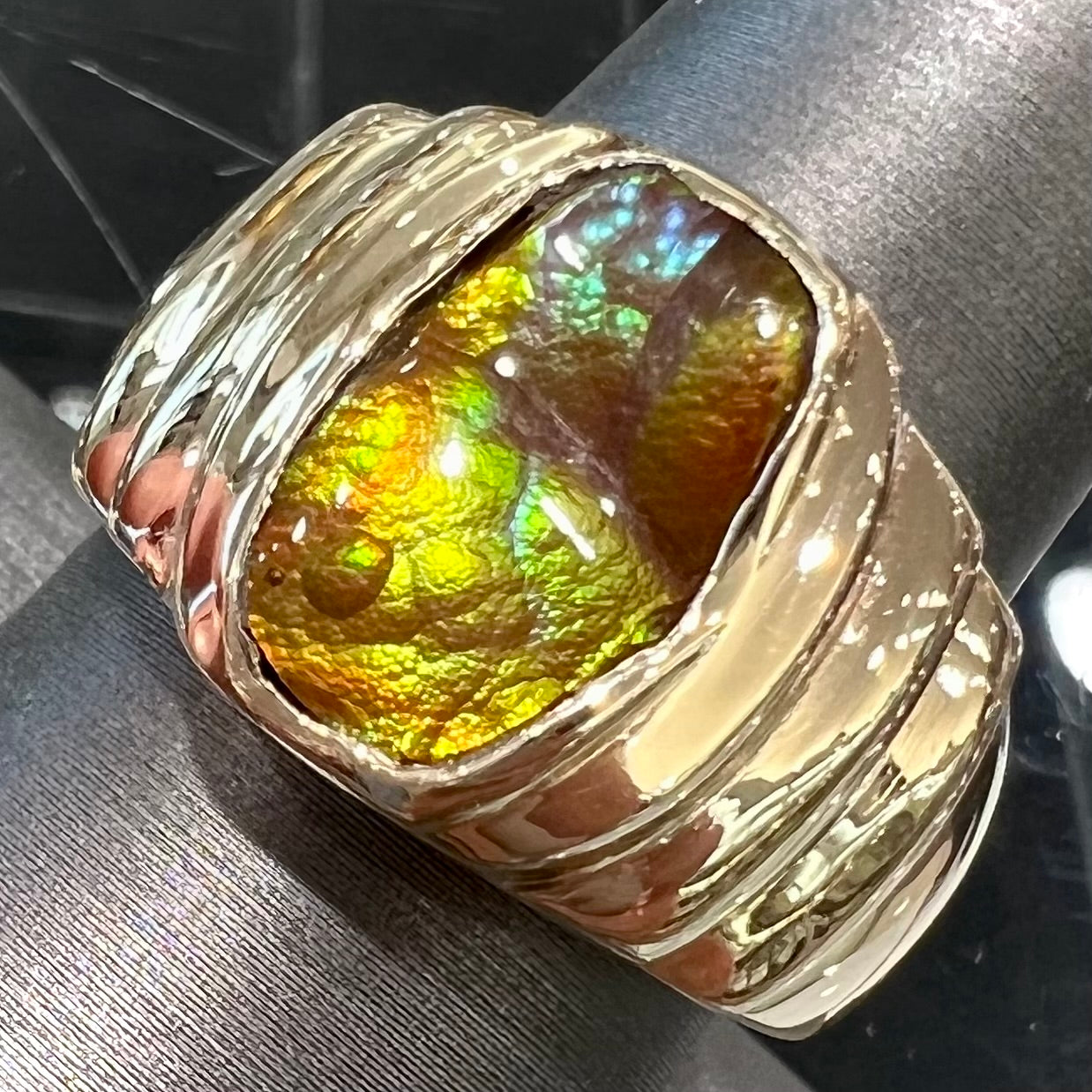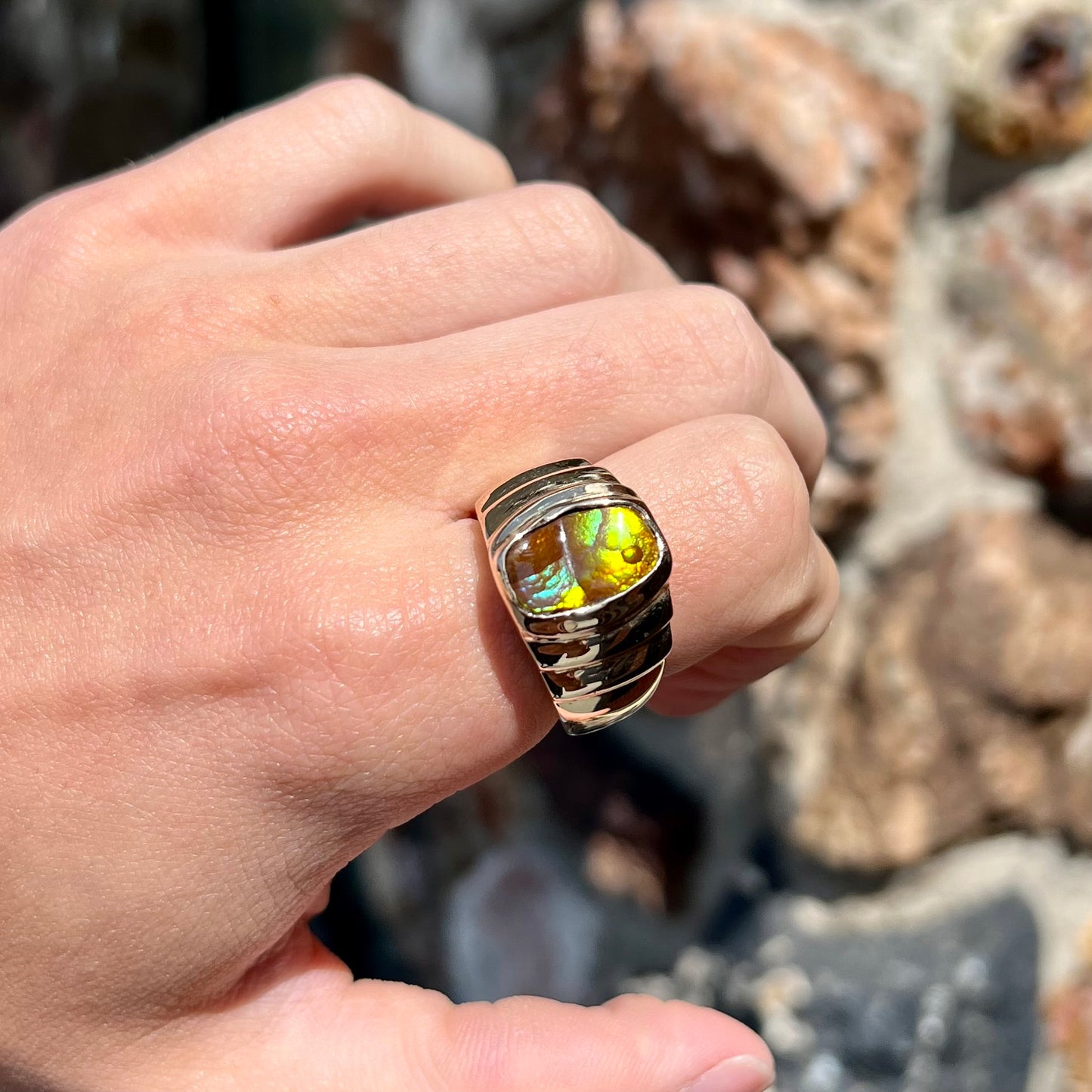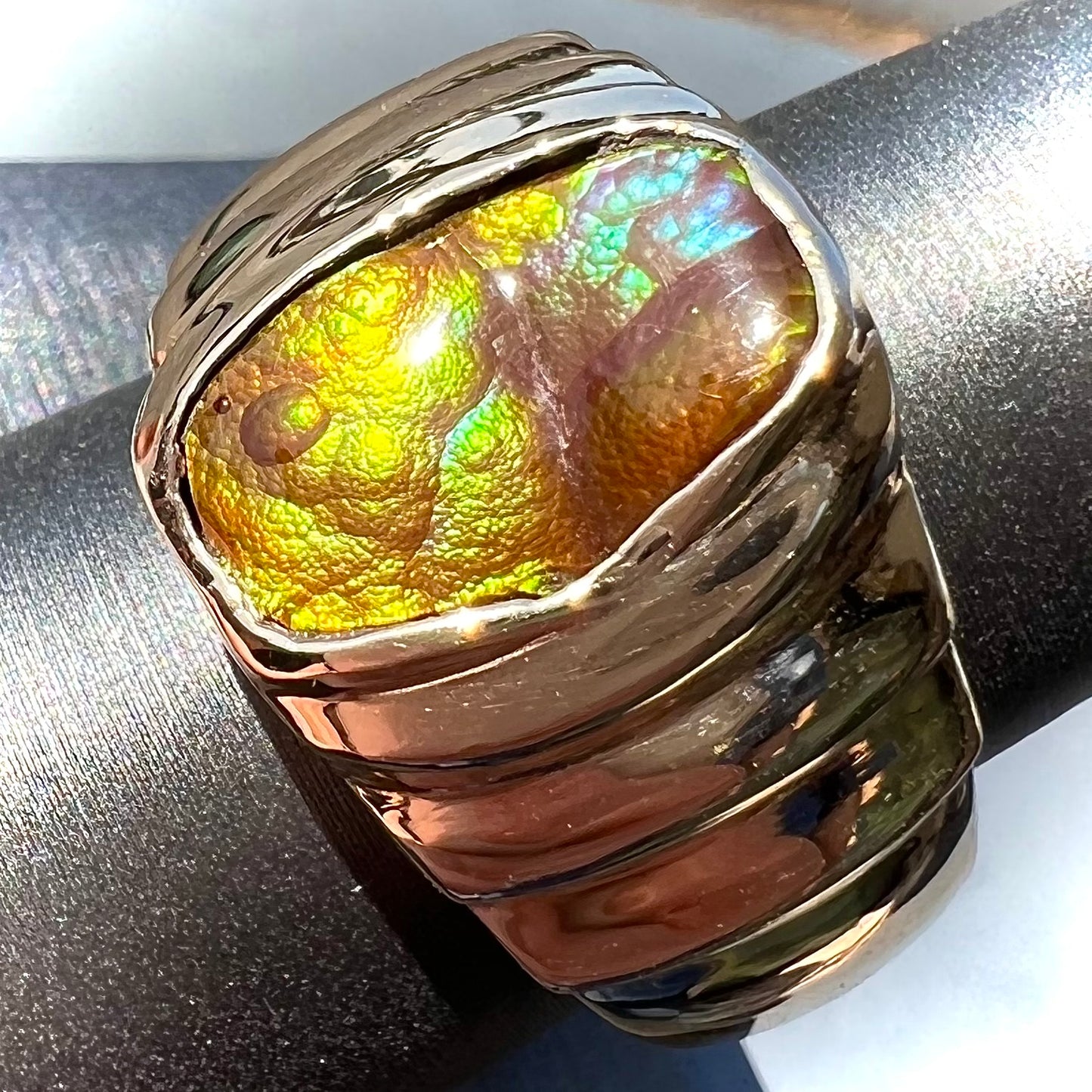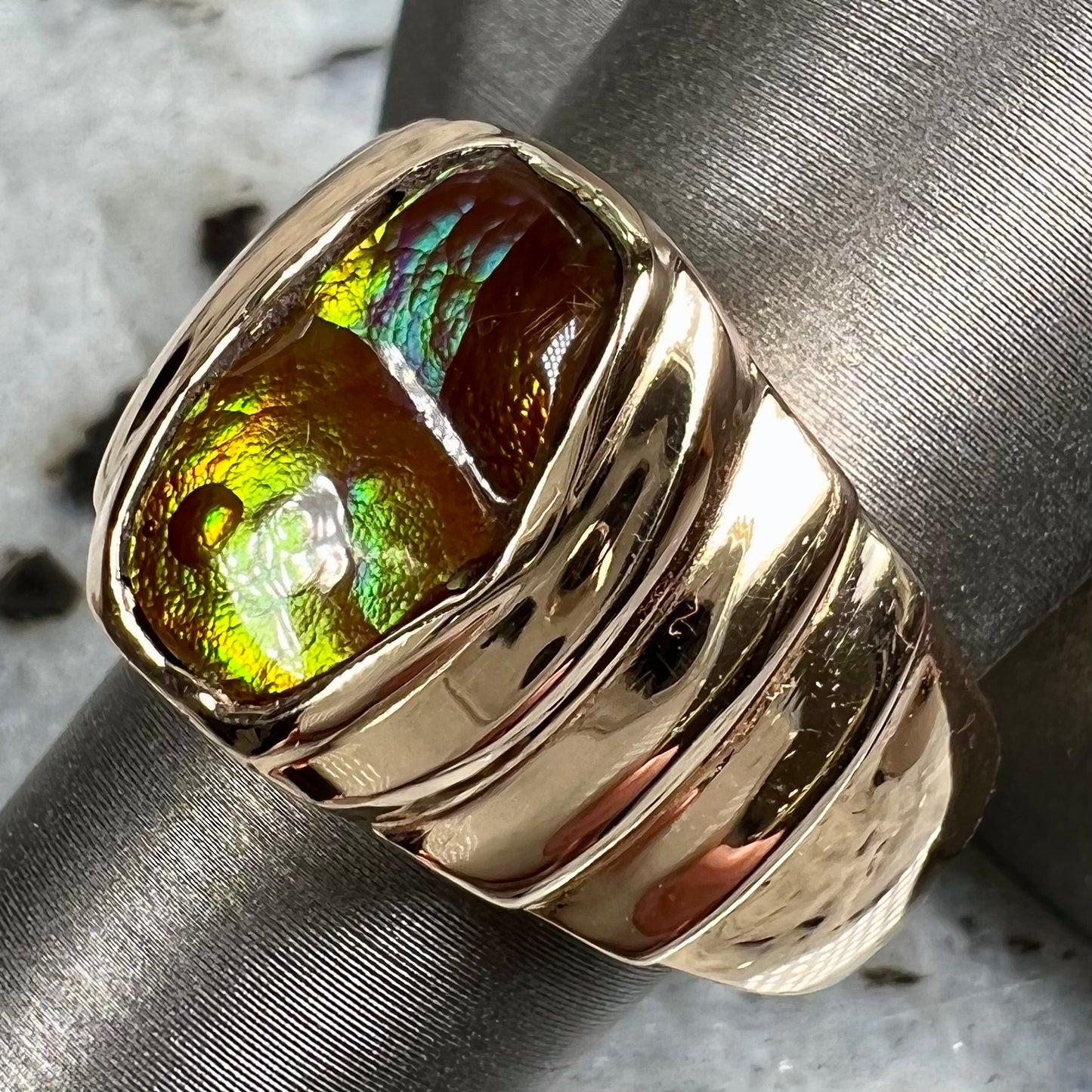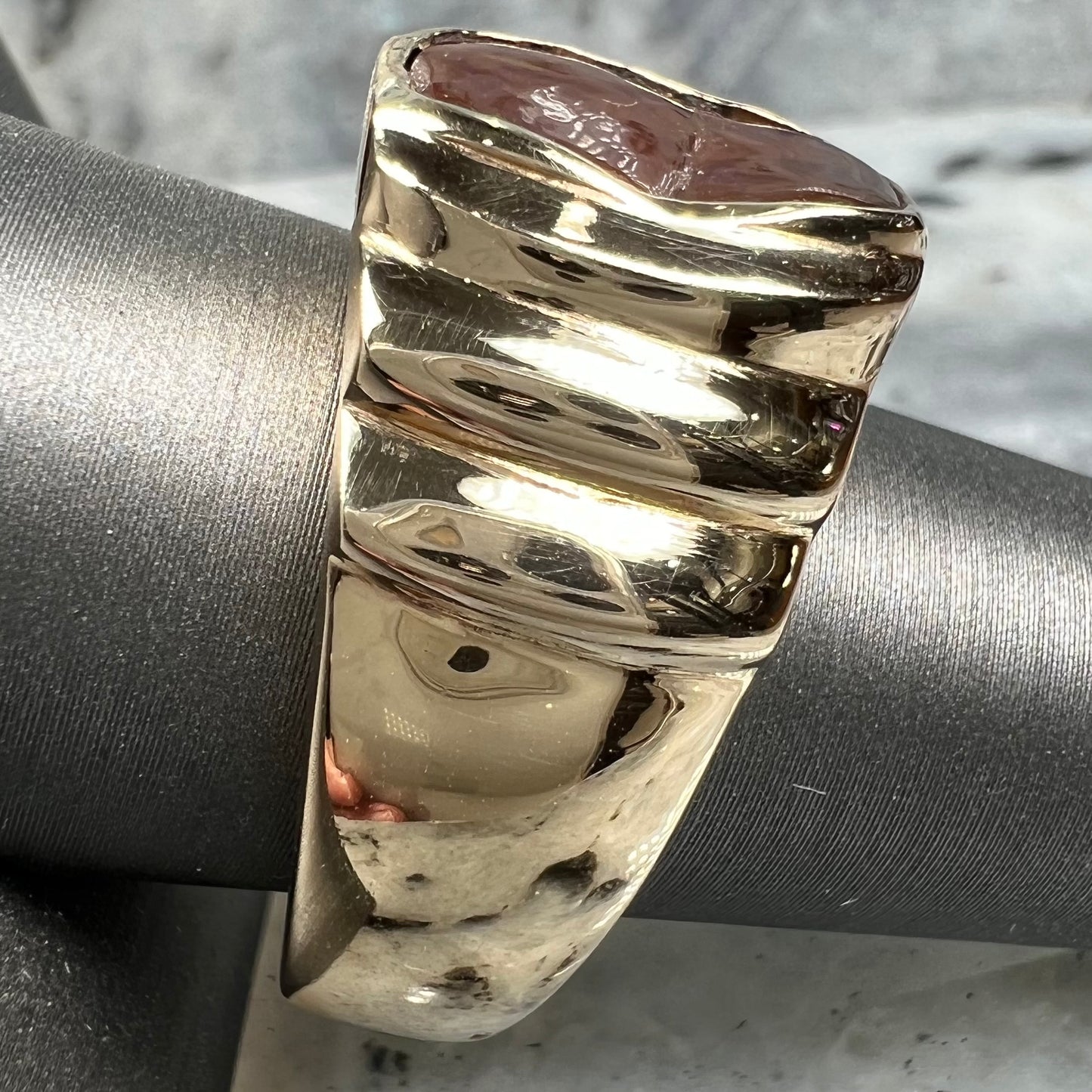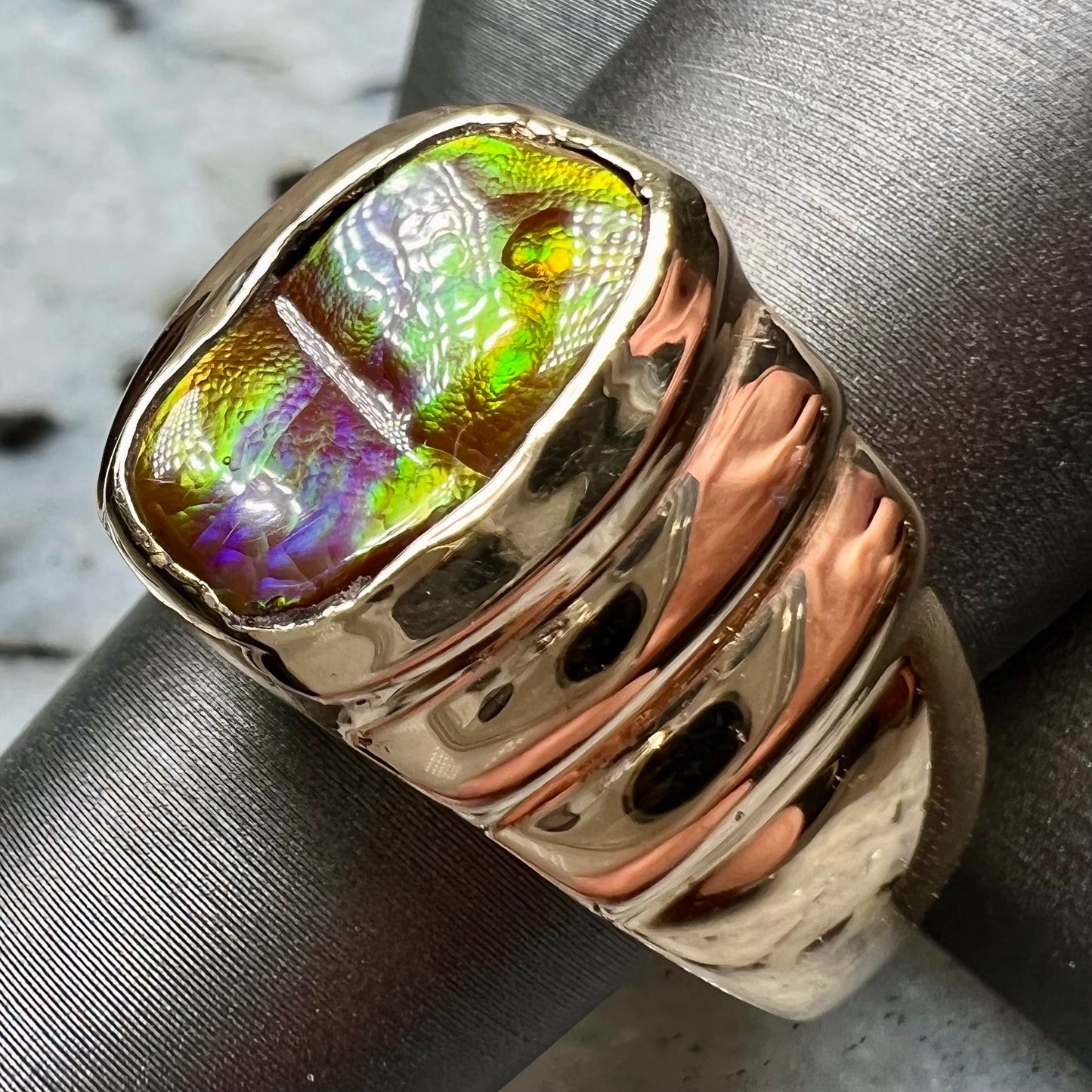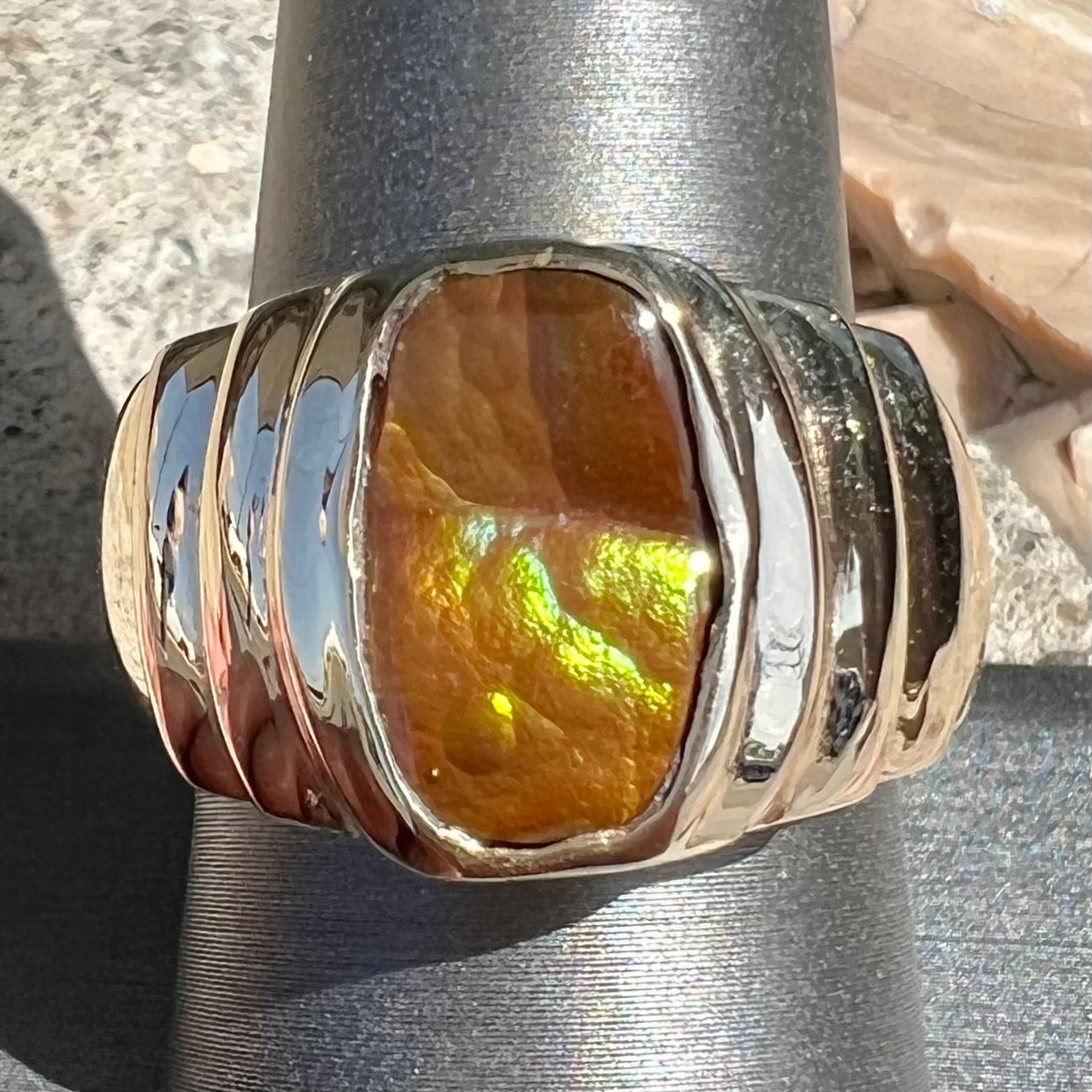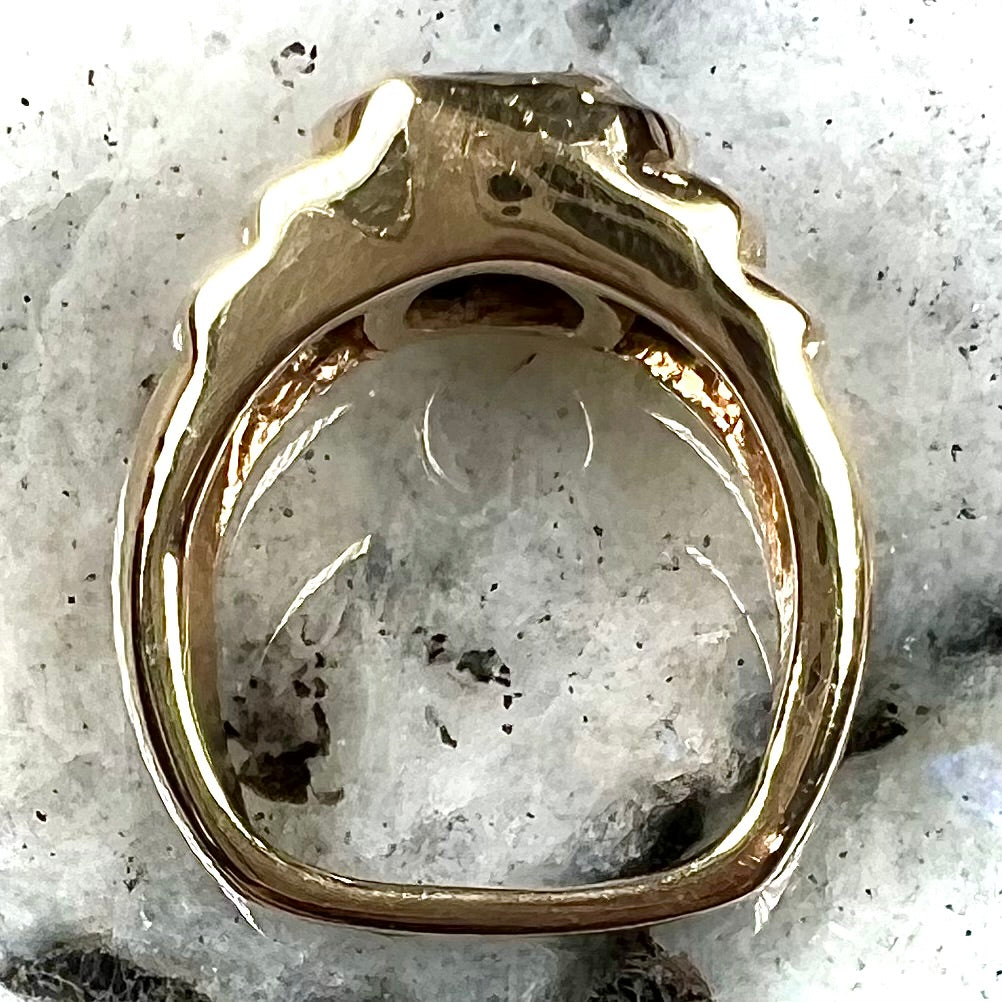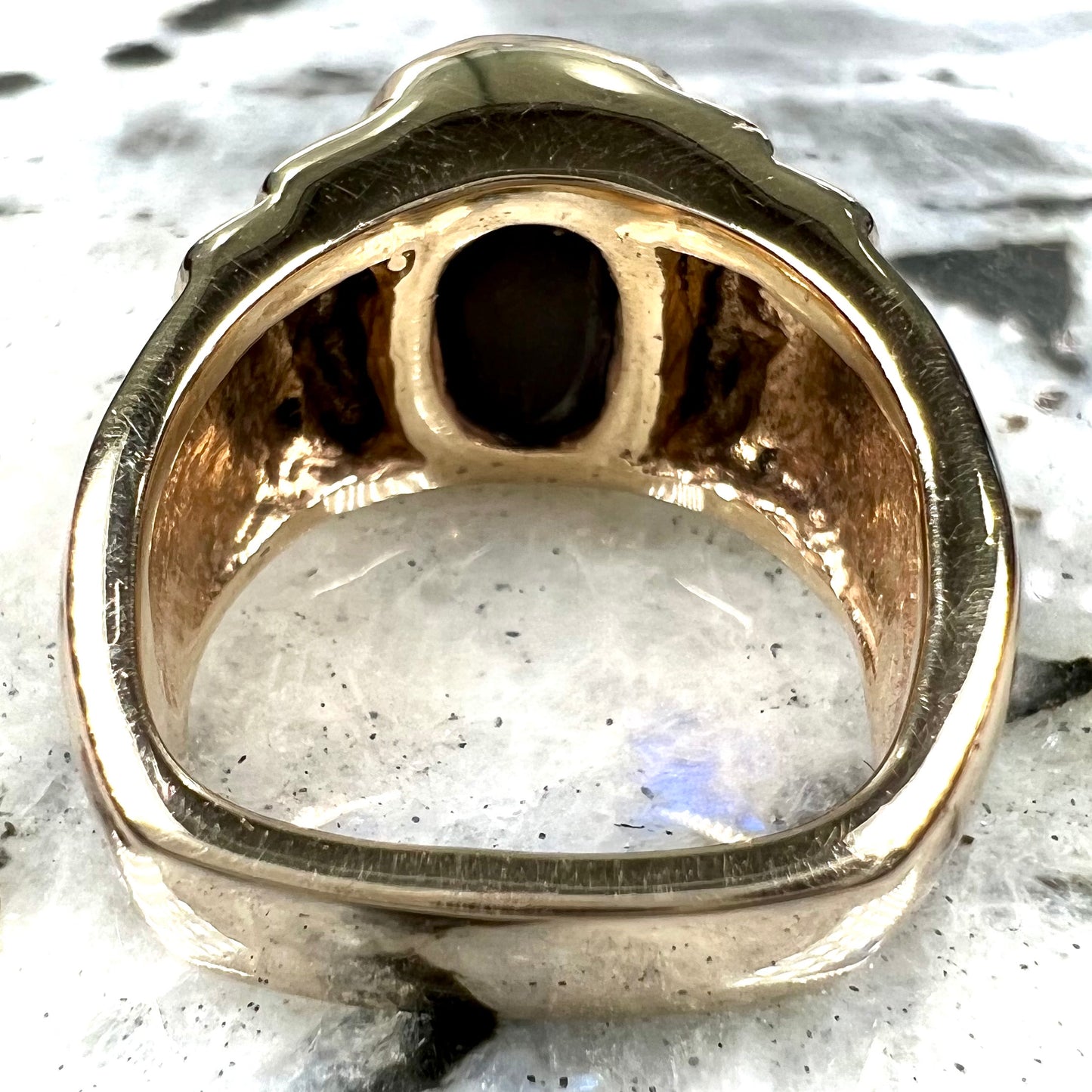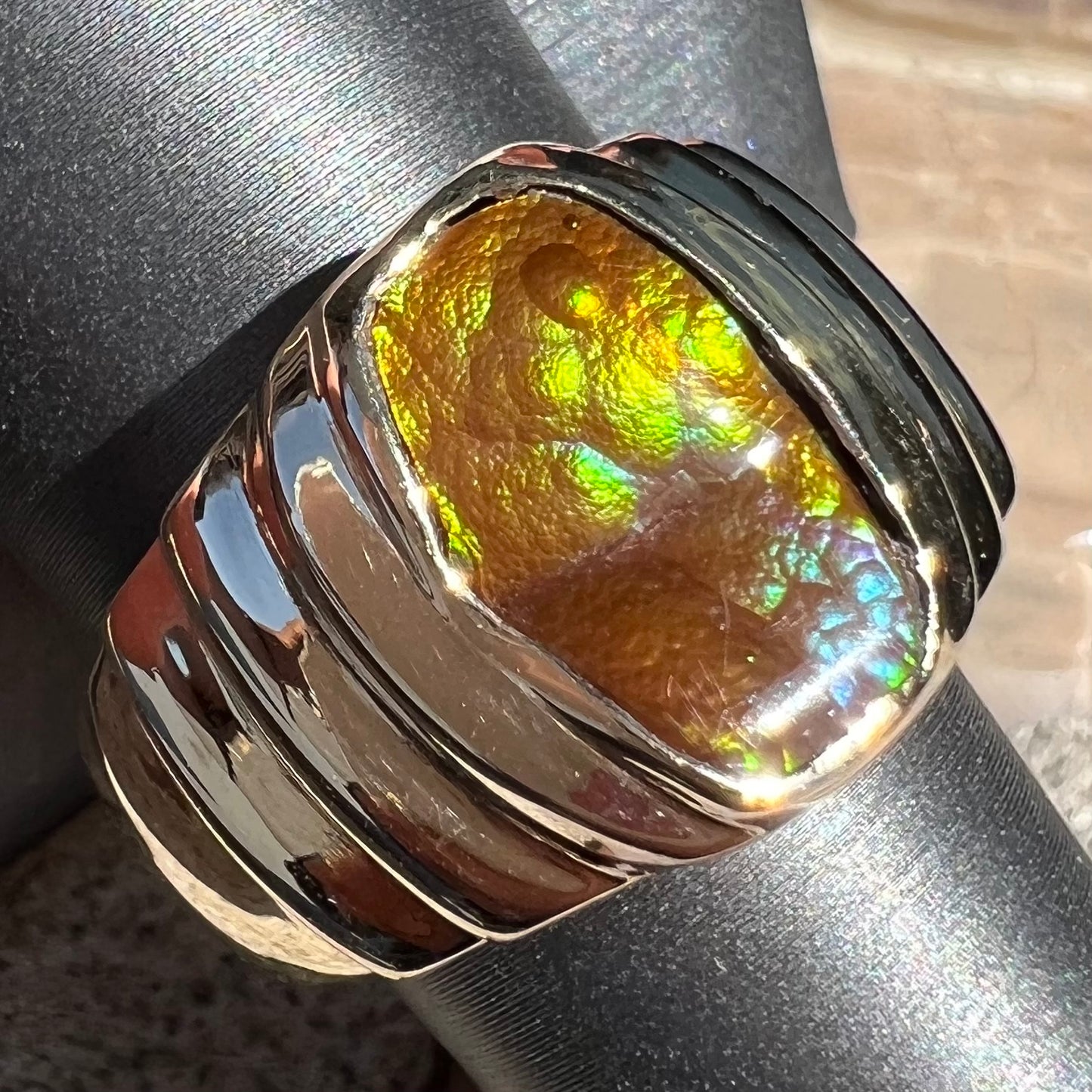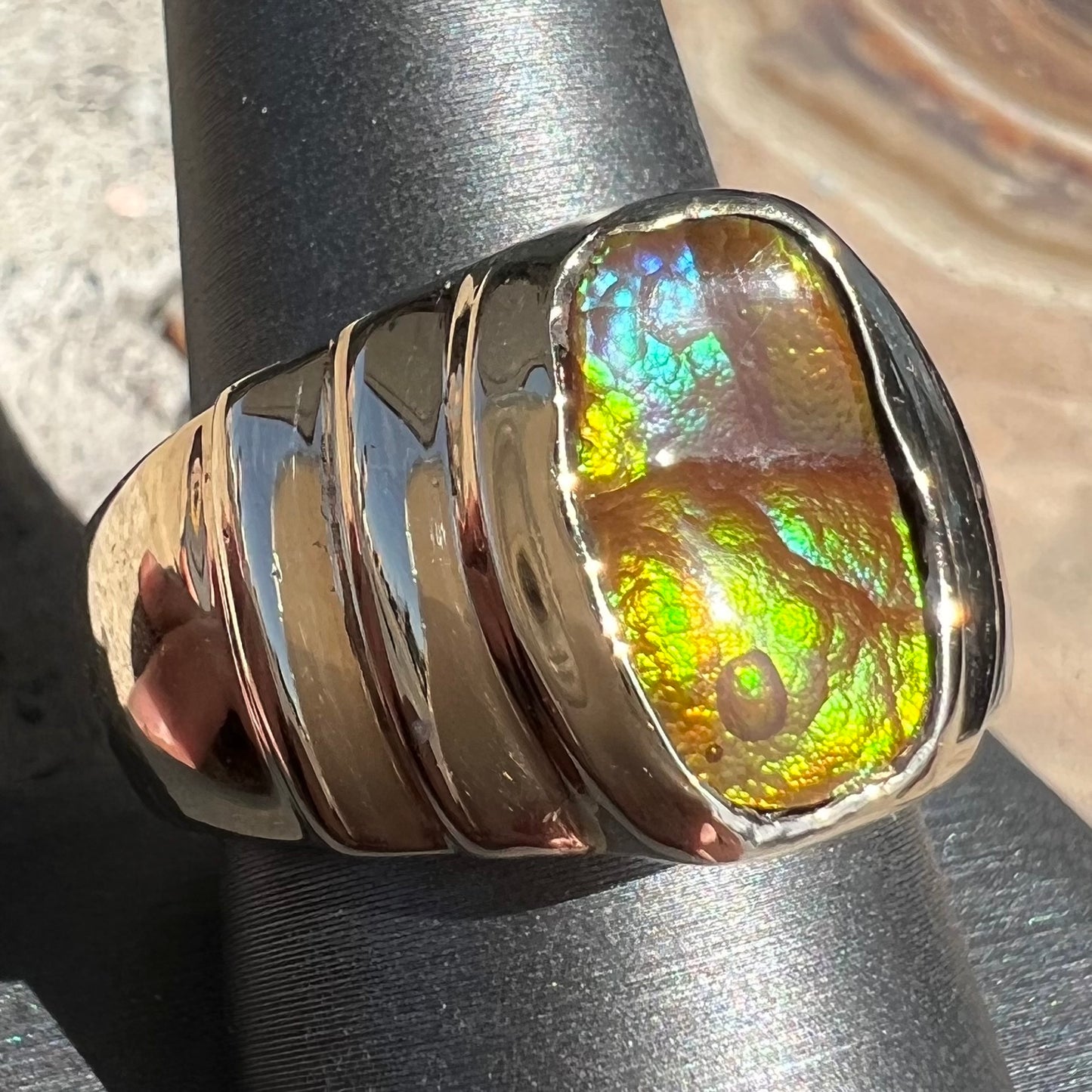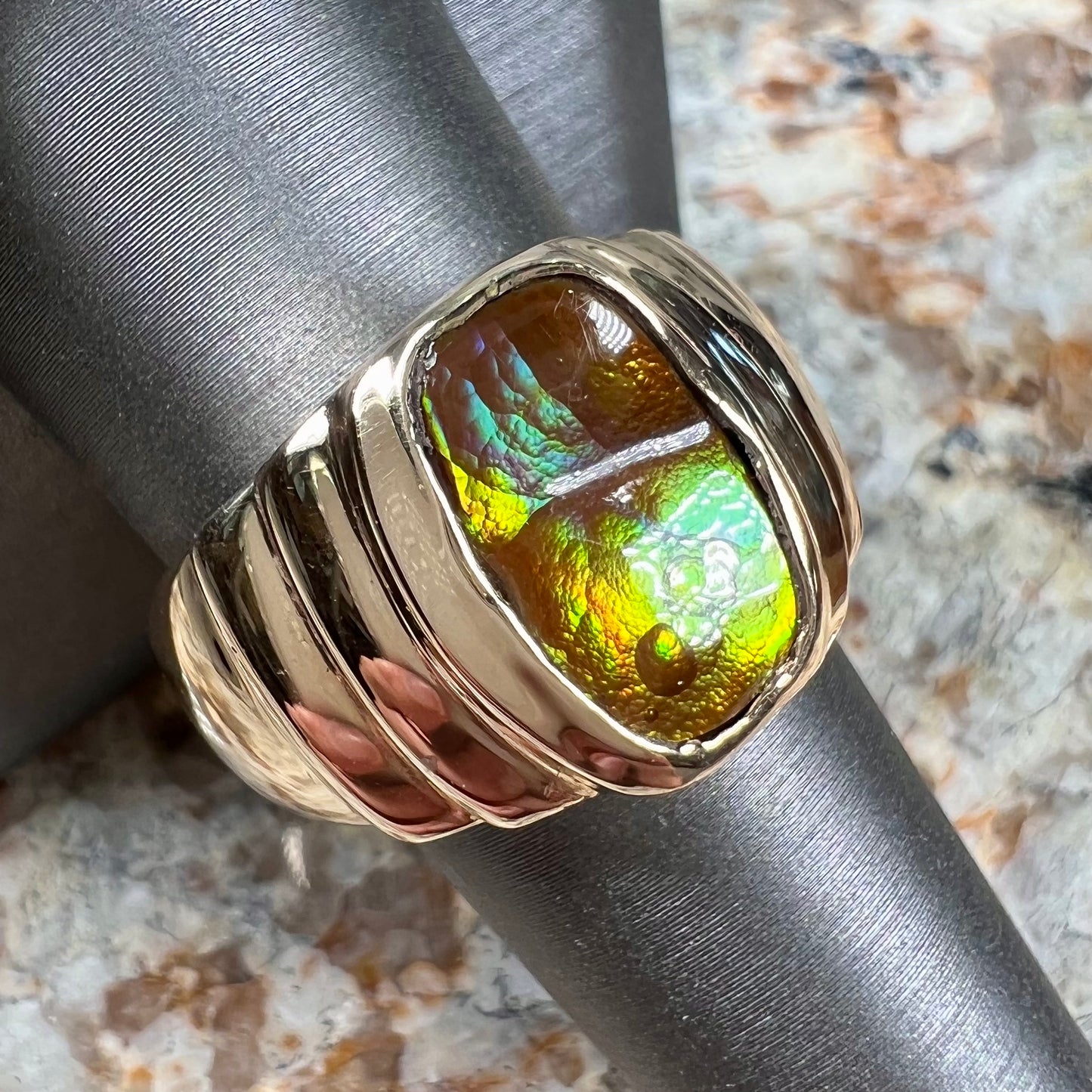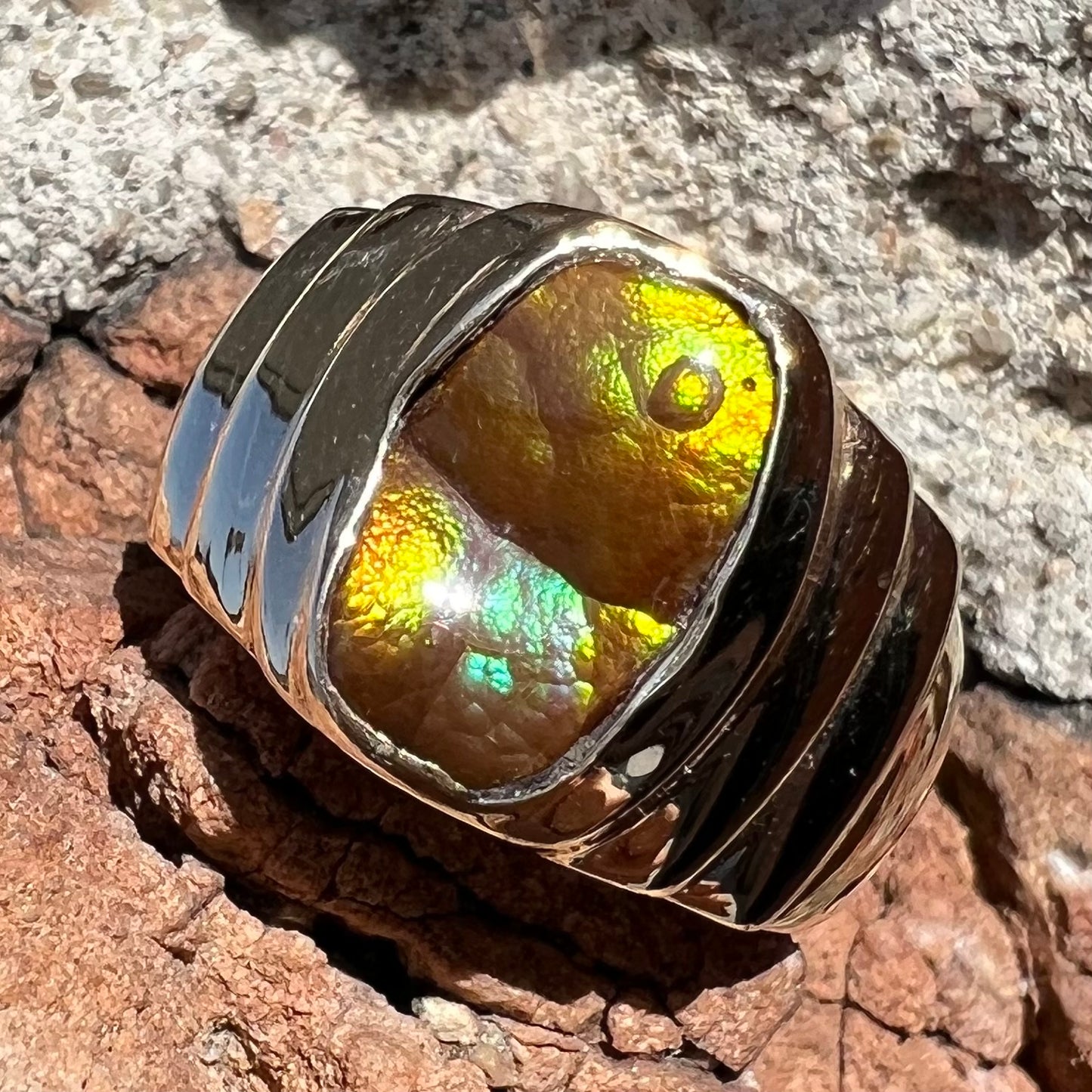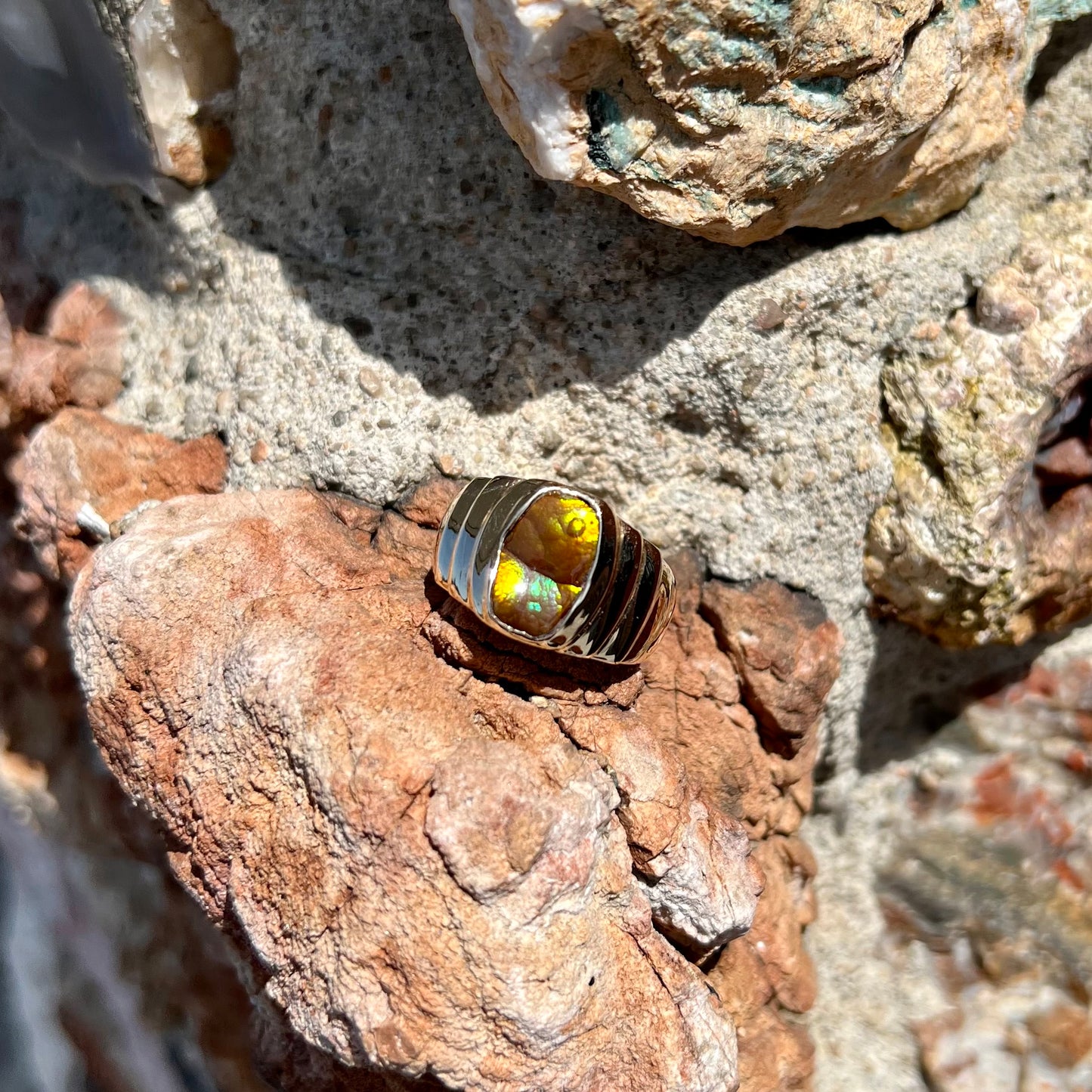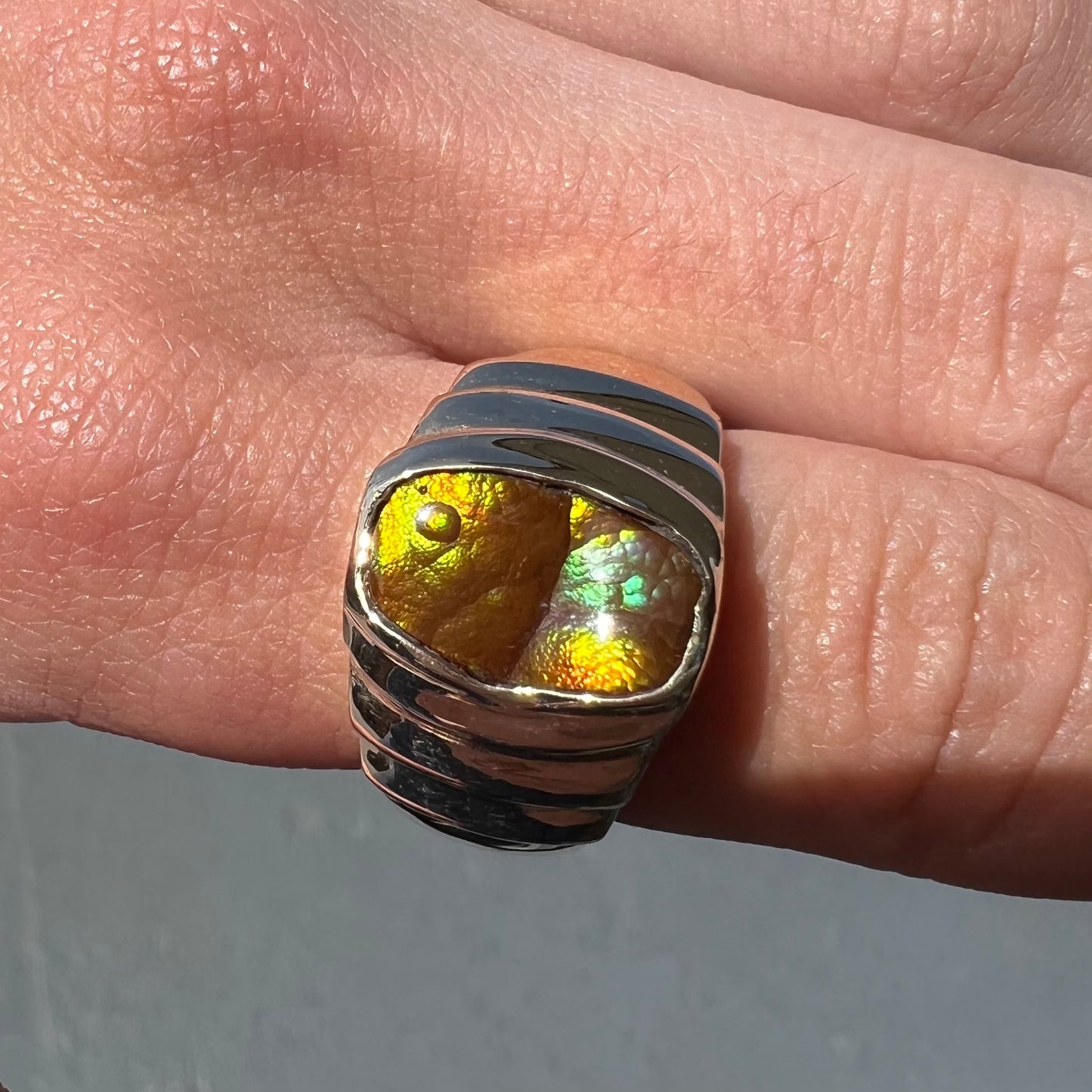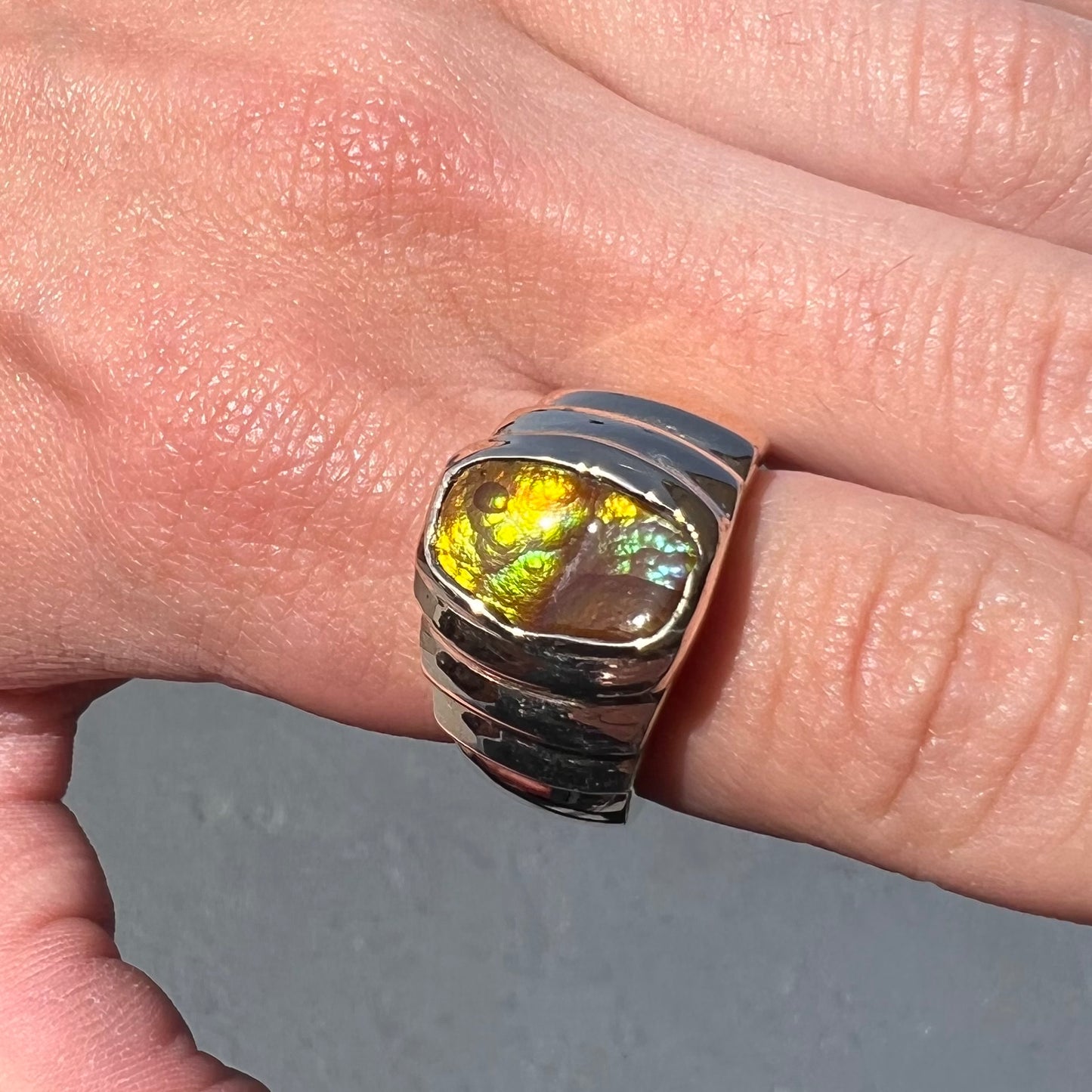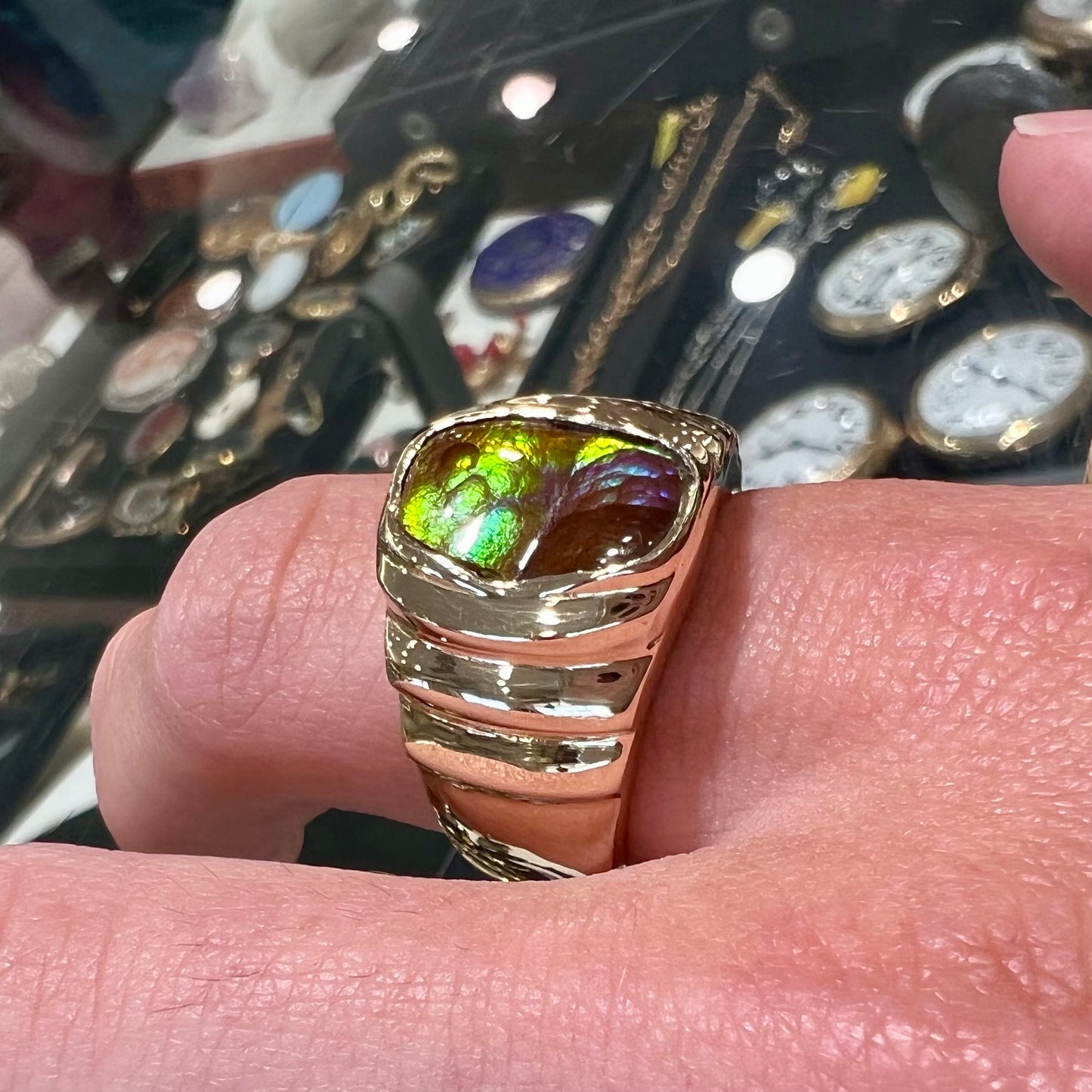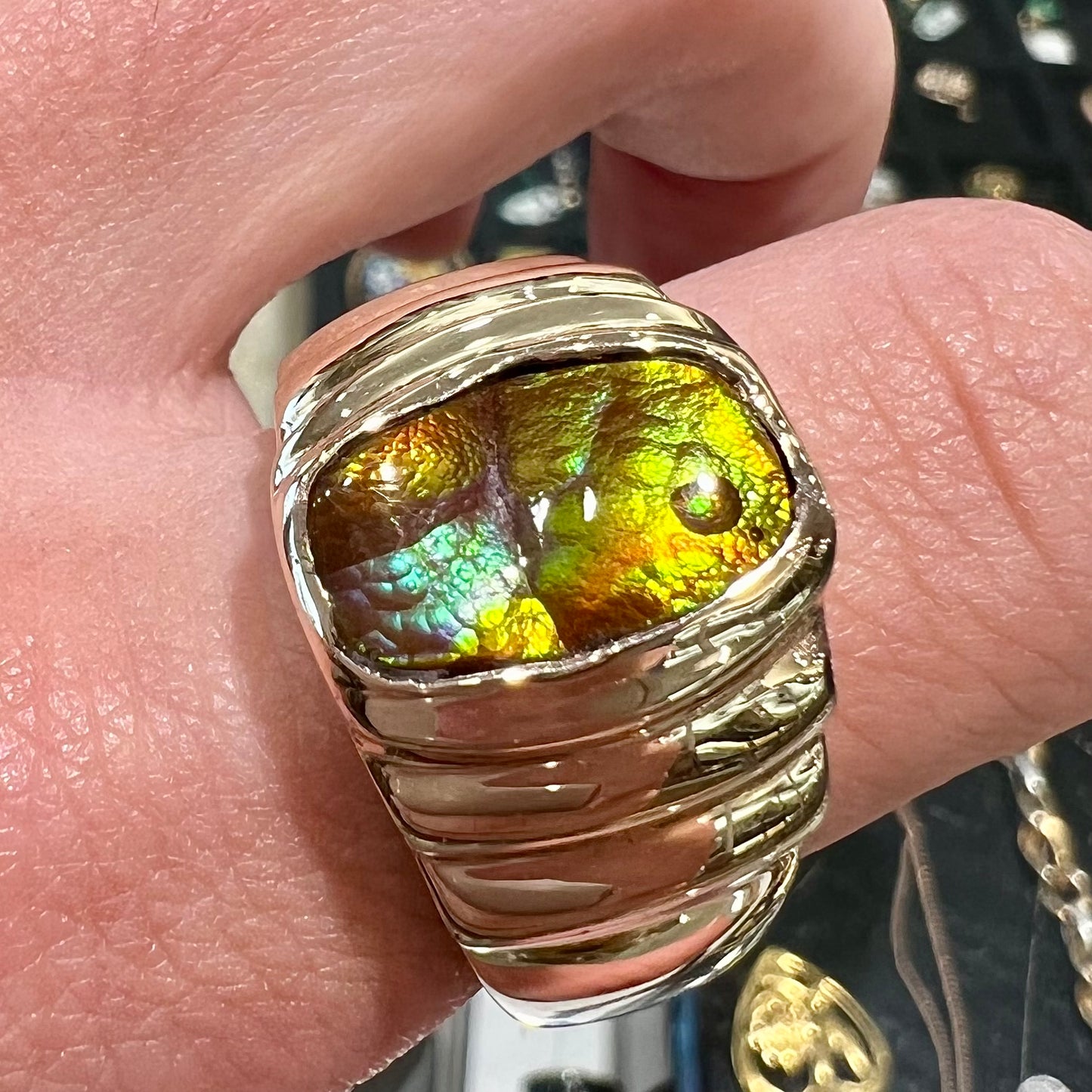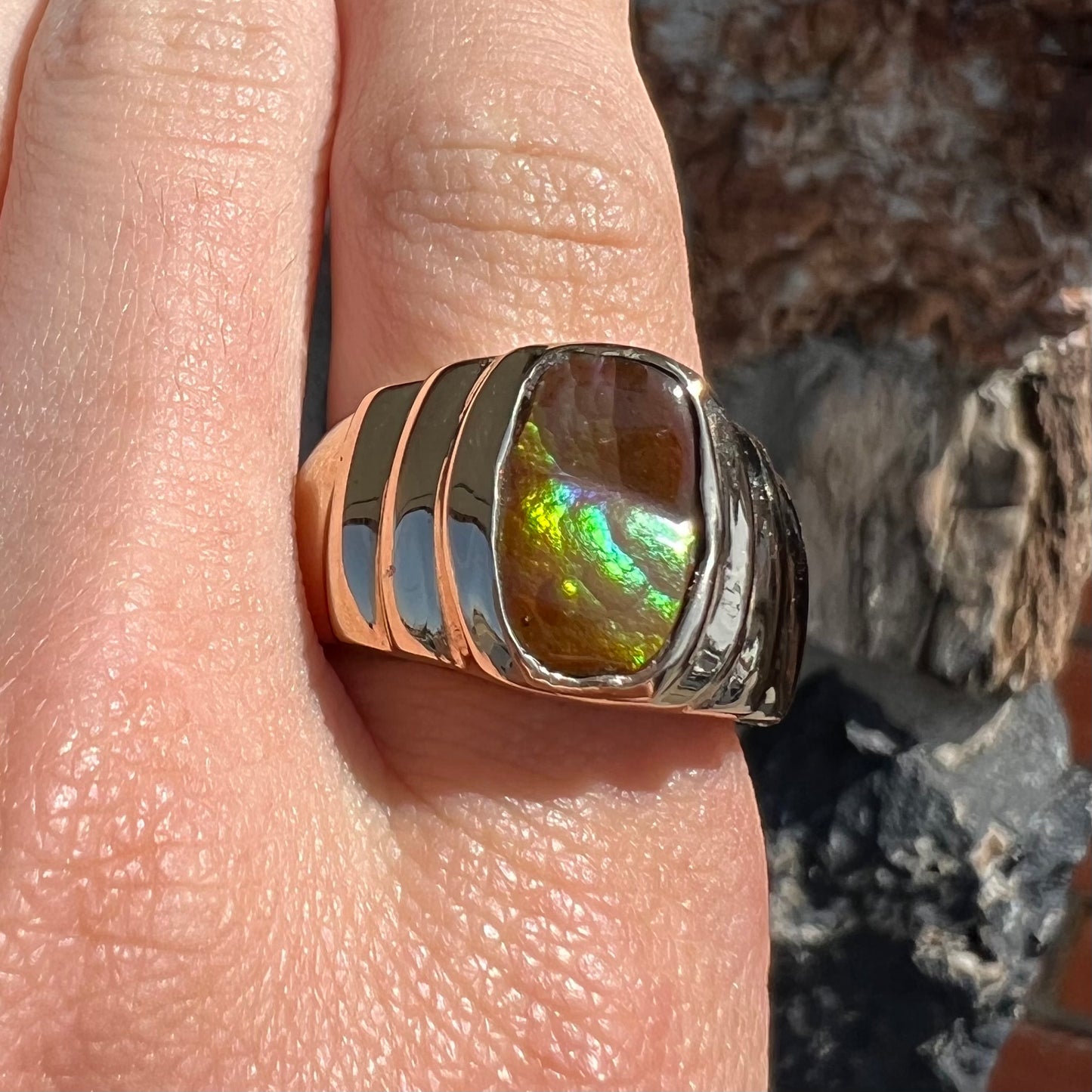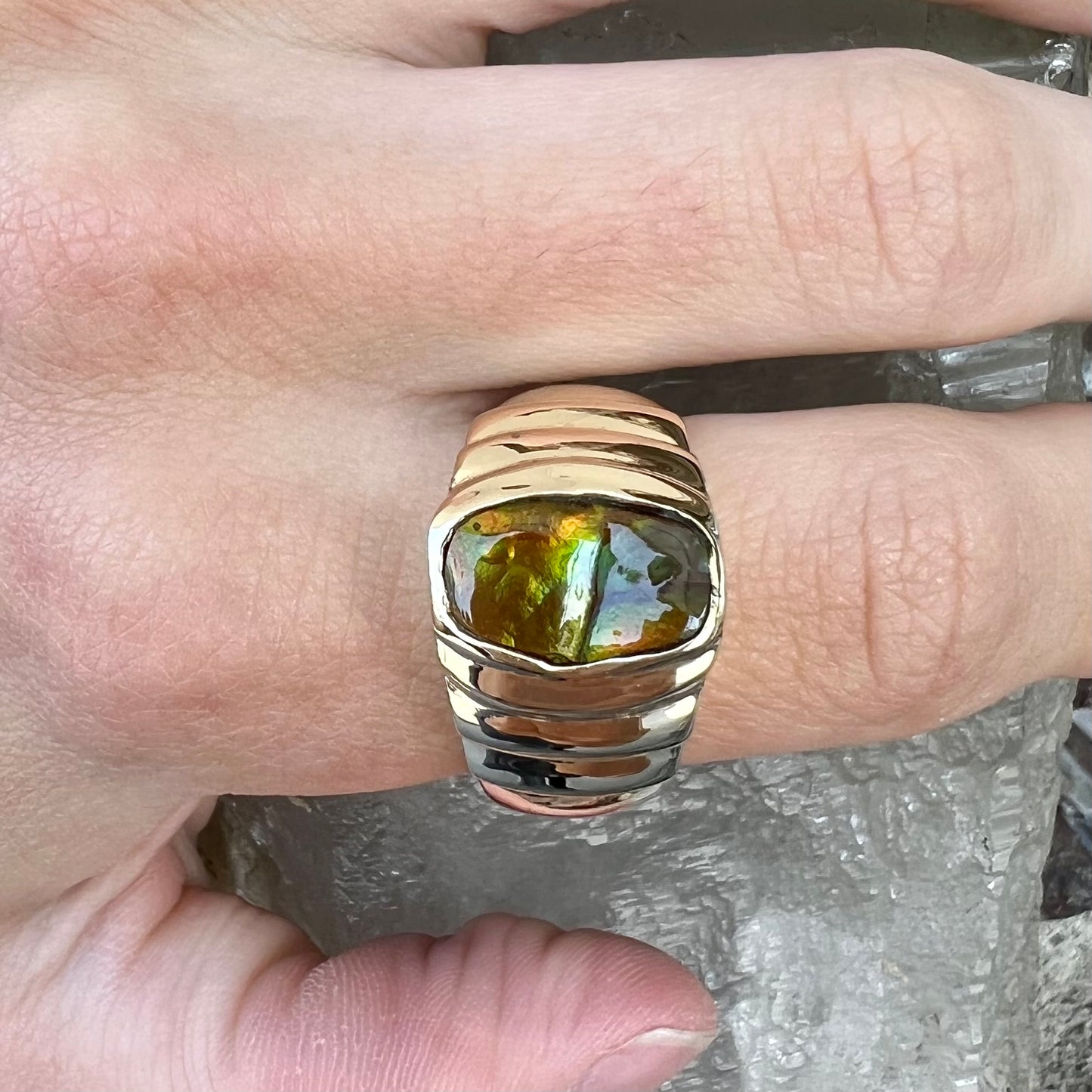 Collapsible content
About Fire Agate

Fire agate is an unlikely combination of several minerals that find themselves encapsulated in agate, a variety of quartz.  Higher grade stones are iridescent and glow similar to opal, changing vivid colors when held at different angles.  It has become increasingly difficult to find quality gem grade material on the market; the Slaughter Mountain deposit, known for producing some of the world's finest rough, sits within the San Carlos Apache reservation in Arizona.  Outsiders are charged hefty fees to mine with most excursions being fruitless.  Specialists in the field insist what little high grade material is left on the market today is actually older material mined in the 1970's.  This is also believed to be the case of material from the high quality Deer Creek (also Arizona) and Mexico deposits, as well.

While fire agate is not technically a variety of common agate, there are advantages to its close relationship.  Ranking a reasonable 6 to 7 on the Mohs hardness scale, the stone is safe to be worn daily; where the material truly shines (figuratively speaking) is its superior toughness.  Fire agate makes the perfect ring for one who works with their hands and wants a piece of jewelry they can wear all the time.  It can be used safely in both engagement rings and men's rings, as well as make a far more durable alternative to opal.  Fire agate jewelry and stones can be cleaned with jewelry cleaner, ultrasonic cleaners, and steam cleaners. If none of these options are available, soap and warm water is never dangerous.
Shipping, Handling, & Inventory

Your order will be processed and shipped within 4 business days.  All shipments are insured by the United States Postal Service, and most orders of $500 or more will require signature confirmation upon delivery.

While we work hard to present our online customers with accurate inventory availability, we reserve the right to cancel and refund a sale if the item is sold somewhere else first.
Wanna Closer Look?

We are always happy to provide additional photos and videos any time.  Just shoot us a quick message, and we'll get back to you.  Don't be shy!
More Fire Agate
Browse from our unique collection of custom, in-house made fire agate jewelry. Loose stones in the back of the collection are offered in partnership with Fire Agate King; get in touch with us to create a special, one-of-a-kind piece of your own.
-
Check out the entire collection by clicking the "View all" button below.