Regular price
$125.00 USD
Sale price
$85.00 USD
Unit price
per
Sale
Sold out
View full details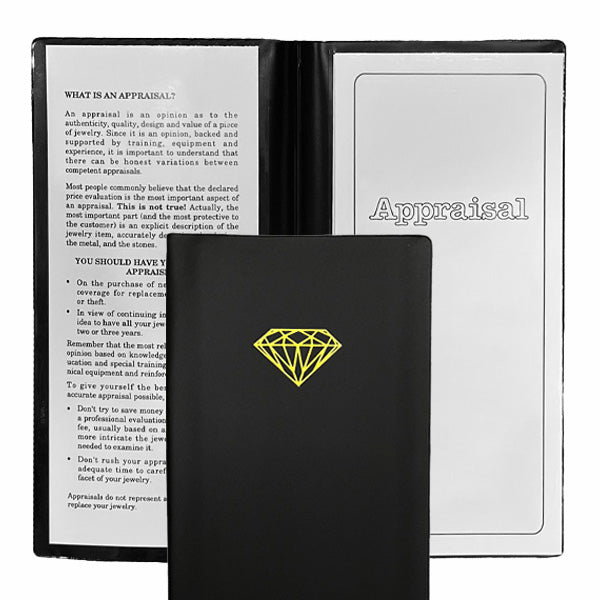 When Do I Need A Certified Appraisal?
Insurance

Most homeowners and renters insurance companies require certified documentation of a jewelry item stated with it's estimated retail replacement cost. Often, an item is appraised with a value higher than what it was originally purchased for, as the price paid may not be easily replicated across different retail markets.

...

Make sure that requirement is checked off of your to-do list- before there's a reason for it

Inheritance

Obtain an unbiased third party statement that assesses an item's current market value. Gain a deeper understanding of inherited jewelry, gemstones, and coins.

Identification

Collectively, our team of certified gemologists provide Orange County with over 85 years of experience. Over all of that time, we've seen a thing or two. Receive a physical, legal opinion of what it is you have from our jewelry appraiser. All appraisals include a photograph of the piece appraised in its current condition, dated for easy reference.
When does a verbal opinion make more sense?
Those Looking For An Offer

Certified jewelry appraisals state retail insurance replacement values that are typically multiples higher than what a private seller can expect.
How much does an appraisal cost?
Certified, Written Documentation

Certified jewelry appraisals cost an average of $125 for one item and $100 for each additional item. The cost is determined by an item's complexity. Appraisals can often be completed same-day or overnight.

Large groupings of items may be eligible for better bulk pricing at our appraiser's discretion.

We offer discounts for the certified appraisals of jewelry, gemstone, and mineral items purchased from our shop. You can also save by purchasing an appraisal directly online and bringing your piece into the store.
Informal, Verbal Opinions

Curious about what your rock might be, if the engagement ring you bought is actually gold, or if your coins are real silver?

We can help you out.

If you catch us at a not-so-busy moment, we are happy to share our knowledge with you, free of charge. In return, we ask that you politely respect our opinion (even if it seems to have been made quickly; a lot of things can be spotted right away) and that you are courteous with regard to the number of items you bring to show us. A few are just fine, but please save the boxes and boxes for if/when you are ready to sell.
Sometimes, We Might Say "No."

The jewelry industry is both constantly evolving and complex.

Occasionally, we will come across a piece that just doesn't feel right to us. If we are not confident in our ability to properly identify an item, we do reserve the right to decline our certified appraisal services.

We promise it's nothing personal.